Jun 14, 2021
Game 4 // Step 2 // Analysis of Dave's Posts
by: Jon Borichevskiy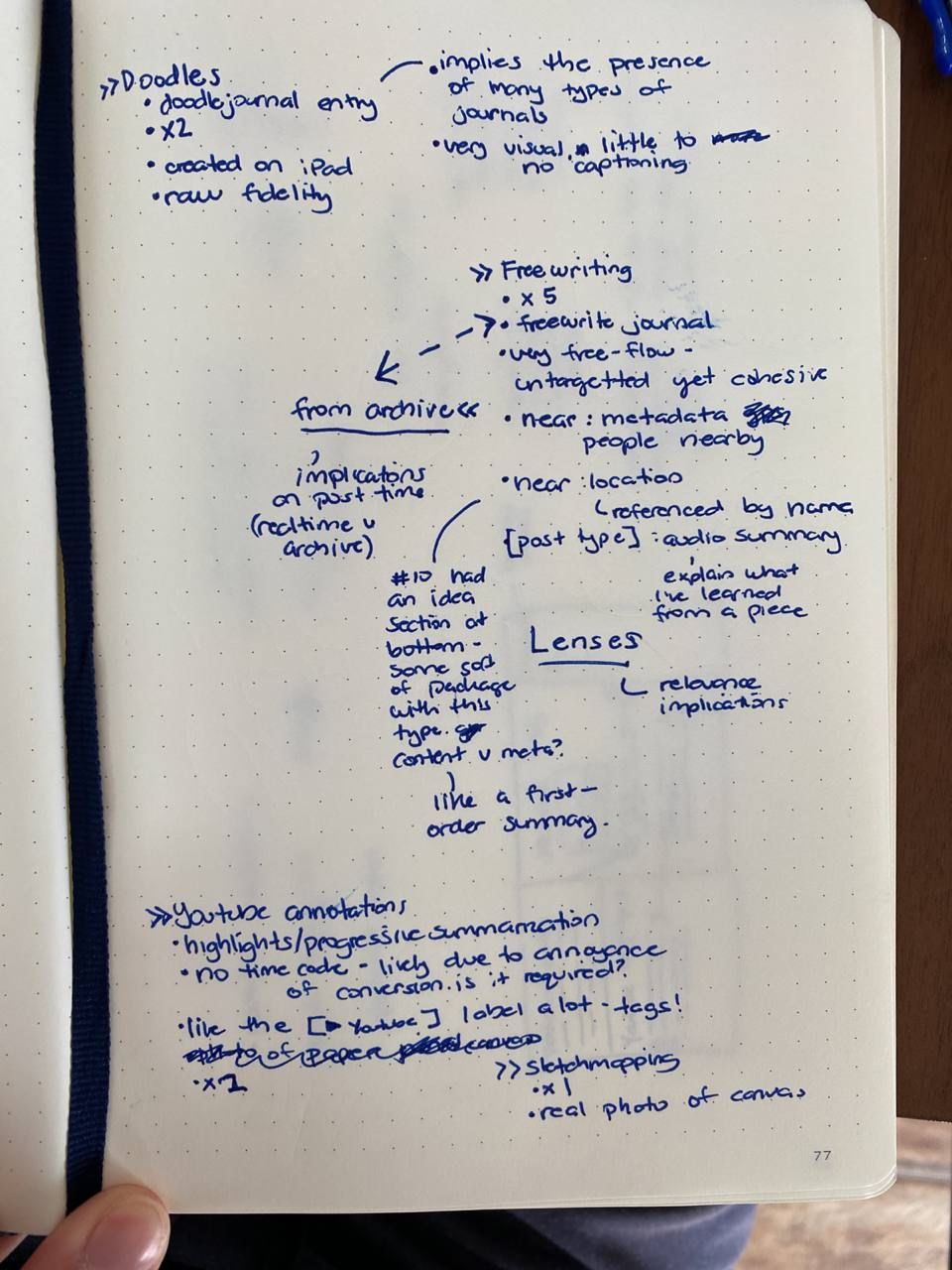 post types
Freewrite
x5
native type: markdown/text
explicit metadata

near people : list of people explicitly/ambently involved with conversation & ideas
near location: name of place conversations & thinking took place
date - exists in title

observations & takeaways

written in first person, stream of consciousness, very flow-y
tag/word cloud here would be more useful than referencing sentences and paragraphs - the context matters a lot. Almost like a little story
one of the posts was from an archive... another metadata tag?

realtime vs archive

everything is realtime and archived at once?
Doodle
x2
native type: markdown/image embed
explicit metadata
observations

"doodlejournal entry" implies many types of journals. curious what they look like in format, and differences in their digital representations
doodle number implies order - would seeing more in order provide more context about each in turn?
very visual; little to no captioning
Youtube Annotations
x2
native type: markdown/youtube embed/text
explicit metadata
observations

no timecode - likely because some of these draw from multiple points in the podcast. What time to reference.

would transcript be helpful for quoting?
lack of timecode makes it feel more like a summary than a series of highlights, a nice thing

post 9 had a short intro section - kind of like context metadata. post 1 went straight to the annotations
cool [► YouTube] visual indicator title tag - what would tags for other posts look like?
Sketchmapping
x1
native type: markdown/image embed
explicit metadata
observations

very cool to see, love the physicality of it
can imagine a map that looks like this - but for the rest of the posts and artifacts uploaded
general thoughts
feels like I can categorize the posts into two buckets (very subjective, I may be off my rocker here; so salt accordingly!):

early/en route summarization

seen as: youtube highlights, sketchmapping, summary freewrite sections
requires less context to consume
some sort of sense-making, memory augmentation, in-the-moment processing

retrospective summarization/ideation/processing

seen as: ideation / intentions & planning freewrite sections, call meta analysis freewrite sections, doodles
pulling together disparate lines of thought
less raw, multiple concurrent themes melding and being contrast against one another
inherently requires more context to make sense of

Seems to me these are flowing towards a third category: synthesis.

a "post type" to really distill a particular question or thread of thought into a self-contained unit that can and absolutely lean on first two types as "references" (read: augmented content / pre-requisite media)

perhaps framed by a question or a statement (ie, "value accrual in centralized vs decentralized markets")

this may be what Dave refers to by "folding" or "folded writing", but am not 100% sure
might be audio-first?

a strong narration, lightly edited with timecoded footnotes and references?
maybe a approximately-timecoded high level outline added afterwards for easier navigation

I am imagining a tiled / sectioned / windowed / transcluded interface for looking at/listening to the primary synthesis post and supplementary / referenced / related content on the side(s)

reading a synthesis post might be more like looking at layers of papers on top of each other